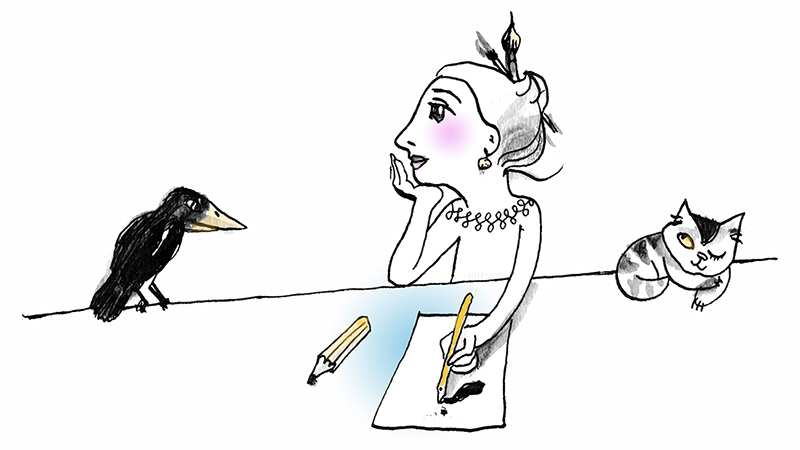 Freiberufliche Künstlerin Grafikerin-Designerin Illustratorin für Verlage
Heike Isenmann ist freischaffende Zeichnerin. In Potsdam geboren, verbrachte sie ihre Kindheit in einem großen Garten, in dem die Oma das allerbesten Pflaumenmus kochte, der Opa die Baumstämme weiß anstrich, die Mutter, nachdem sie von der Arbeit kam, Blumen stickte, der Vater an Wochenenden singend Akkordeon spielte, ihr kleiner Bruder Schlüssel versteckte und der Milchmann noch vorbei kam. Dieser Garten hatte einen Bahndamm, auf denen Dampfloks prusteten und später Züge in die ganze Welt rasten.
Nach der Schneiderausbildung arbeitete sie drei Jahre als Kostümschneiderin und studierte an der Hochschule für bildende Künste Theatermalerei. Sie arbeitete für die Freie Theaterszene, für Frauen-, Tanz- und Kindertheaterproduktionen. Sie studierte Kommunikations-Design an der neugegründeten Fachhochschule in Potsdam. In dieser Zeit entwickelten sich fotografische Kunstprojekte mit Schwerpunkt Inszenierung. Auf ihren mehrmonatigen Studienreisen durch Südamerika fing sie an zu schreiben.
Nach der Geburt ihres Sohns eröffnete sie im Jahr 2005 die Mal- und Zeichenschule Kunstgriff.23. Dort bietet sie Kurse für Kinder und Erwachsene an, initiiert Projekte, zeichnet und illustriert frei und für Aufträge.

Self-employed Artist, Grafic designer, Illustrator for publishers
Heike Isenmann is a freelance graphic artist. Born in Potsdam she spent her childhood in a big garden with her grandmother cooking the worlds best plum jam, her grandfather painting the tree trunks white, her mother embroidering flowers after coming home from work, her father singing and playing the accordion on the weekends, her little brother hiding the keys and the milkman still making his rounds. This garden had a railway enbankment on which steam engines chugged and later trains rushed away into the world.
After her apprenticeship in tailoring she worked as a costume tailor and studied theater painting at the University of Fine Arts. She worked for the independent theater scene and for women´s and children´s productions as well as for dance theater. She studied communications design at the newly founded "University of applied studies and arts" in Potsdam. During that time photographic art projects with focus on staging came to life. On her several month study trip through South America she started writing.
After the birth of her son she opened the painting and drawing school Kunstgriff.23. That´s where she offers courses for children and adults, initiates projects and draws and illustrates independently and for commissions.